ThreatX's experts talk about the history of DDoS attacks and how they are reaching recording breaking heights!
ThreatX's SOC Manager, Neil Weitzel and Jeff Gardner, tenured CISO will be breaking down how these DDoS attacks have changed and are able to scale to new heights. They answer questions related to:
Patterns of Volumetric, Bot-Based Attacks
Misconceptions of Bot Protection
Common Bot Attack Techniques
Hope to see you there!
Speakers: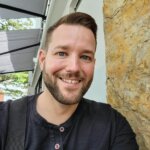 Neil Weitzel
SOC Manager @ThreatX
Neil has 15 years of experience in roles from user support to leading security programs. He has expertise in security architecture and cybersecurity best practices and is an active member of the security community. He has delivered lectures at DEF CON, OWASP, and local security meetups. Neil also acts as an adjunct lecturer on Software Engineering at Indiana University.
---