Looking for an Alternative to Stackpath WAF?
Secure APIs and apps with confidence, not complexity​ – from the edge to runtime within one easy-to-use platform.
Go from zero to blocking mode in minutes with ThreatX – an easy-to-use, comprehensive platform to discover, visualize, and protect your APIs and applications from the edge to runtime.
Identify and stop attacks with automated, risk-based blocking
Get continuous API discovery, traffic analytics, and threat investigation
On-board and enable protection for multi-cloud environments in minutes
Rest easy with fully managed API & app protection, 24/7 support, and more – backed by experts
Protect APIs and apps against botnets, runtime threats, and other sophisticated attacks within one platform
Why ThreatX Might Be a Fit for Your Organization
Prospects often come to us frustrated with how disjointed their WAF, API, and bot protection solutions are in large platforms like Akamai. Getting a clear picture of all of the threats at the edge and at runtime requires multiple product licenses and more infrastructure to manage. ThreatX offers a simpler and more practical approach.
ThreatX customers often value best-of-breed protection, simple management and deployment, along with the partnership they form with our Protection-as-a-Service team as an extension of theirs. Our platform is cloud-native and easily protects APIs and apps across any mix of cloud infrastructure.
| | | |
| --- | --- | --- |
| Compare our Solution Features | ThreatX | Stackpath WAF |
| Behavioral Threat Detection | | |
| Risk-based Blocking | | |
| Web Application Firewall | | |
| API Protection | | |
| DDoS Protection | | |
| Bot Defense | | |
| Runtime Protection | | |
| Protection-as-a-Service | | |
| API Discovery | | |
| API Specification Generation | | |
| API OWASP Top 10 | | |
Why Prospects Choose ThreatX Over Stackpath WAF
Detect and Block Advanced Threats, Automatically
Stay ahead of cyber threats by tracking behavior and blocking based on risk
Discover, detect, track, and block attackers, all with a single solution.
Attackers are always switching up their methods and tactics. With solutions that are signature-based or that rely on static rulesets, this quickly devolves into a never-ending game of cat and mouse. Your team ends up wasting valuable cycles on menial tasks that aren't making you safer.
ThreatX is always monitoring, assessing, and correlating attacker behavior to quickly and accurately identify threats. Continuously tracking attackers over time, ThreatX provides a complete view of the evolving threats targeting your APIs and applications and blocks them automatically based on risk, reducing false positives and alert fatigue.
Learn more about risk-based blocking with ThreatX.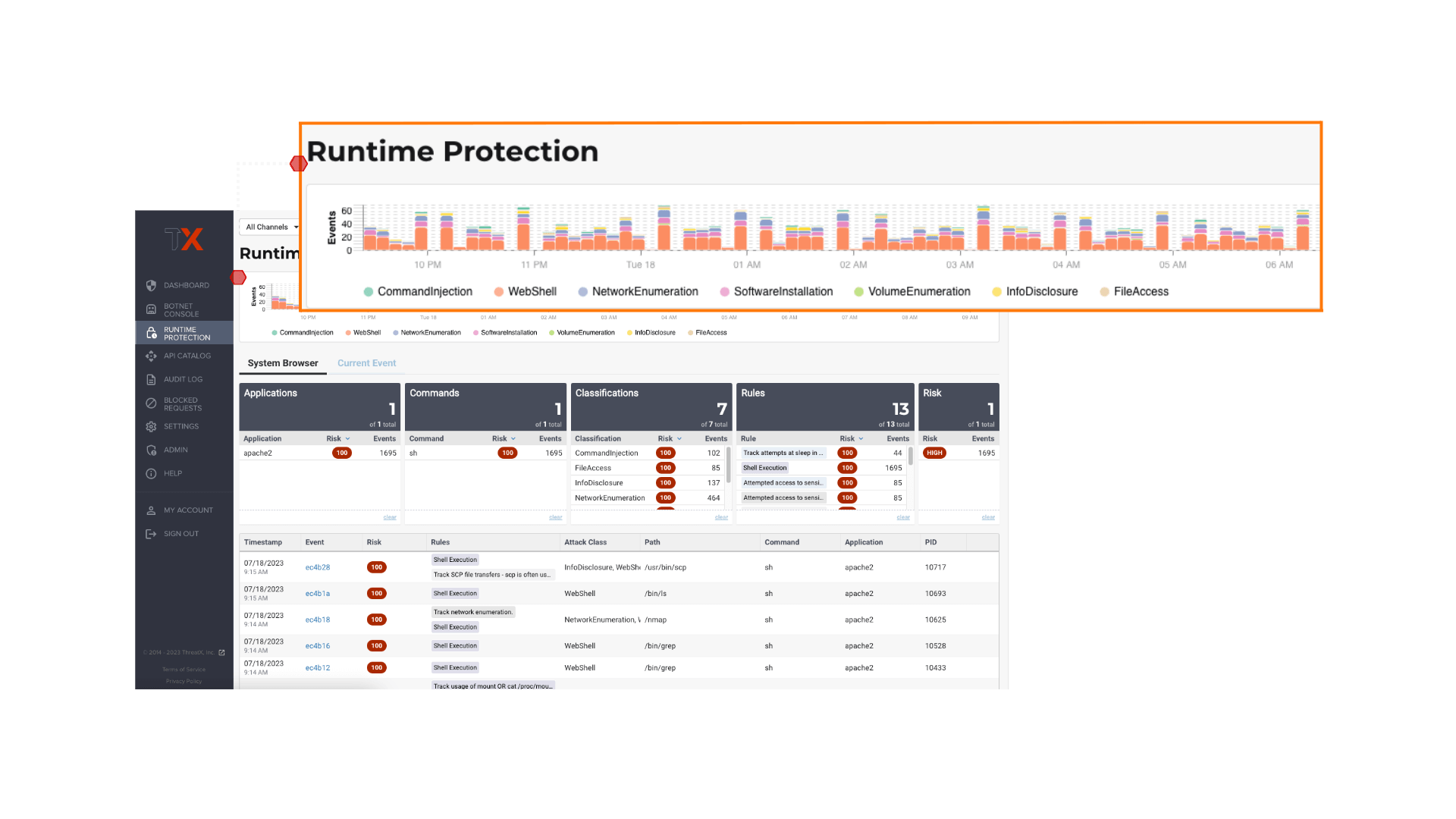 Runtime API & App Protection
Defend the cloud workloads powering your applications
As organizations transition apps and workloads to the cloud, often across multi-cloud environments, attackers seek new ways to access sensitive data. With ThreatX Runtime API and Application Protection (RAAP), organizations can greatly extend protections beyond the edge and address a myriad of risks to runtime environments.
Get protection against runtime threats including malware, web shells, remote access software, code injections and modifications, insider threats, and malicious rootkits. Powered by extended Berkeley Packet Filter (eBPF) technology, ThreatX RAAP delivers visibility into all network flows, system calls, and processes. The ThreatX RAAP runtime sensor supports advanced data collection, profiling, and analytics to identify attacks and take appropriate action.
Learn more about Runtime Protection with ThreatX.
Consolidated Protection from the Edge to Runtime
Secure APIs and apps from bots, runtime threats, and sophisticated attacks within one easy-to-use platform
Unlike other solutions, ThreatX is a fully integrated API and application protection platform blocking a broad range of threats including botnets, DDoS attacks, multi-vector attacks, zero days, east/west threats and more.
ThreatX Edge protection enables your team to automatically to discover your APIs; detect and track threats; and block attacks in real-time – or alert security, if that's your preference.​
However, threats to APIs and apps extend well beyond the edge. That's why ThreatX Runtime protection provides coverage for zero day vulnerabilities, rootkits, east-west traffic, and other OS level exploits​.
Learn more in How it Works.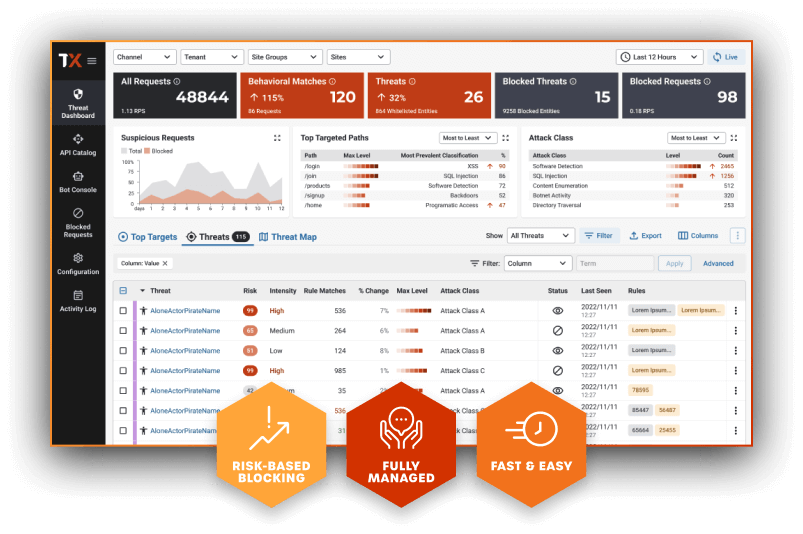 Key Benefits
Secure APIs and applications with confidence, not complexity
Block attacks in real time with API and application protection you can trust 24/7 (without having to manage it yourself).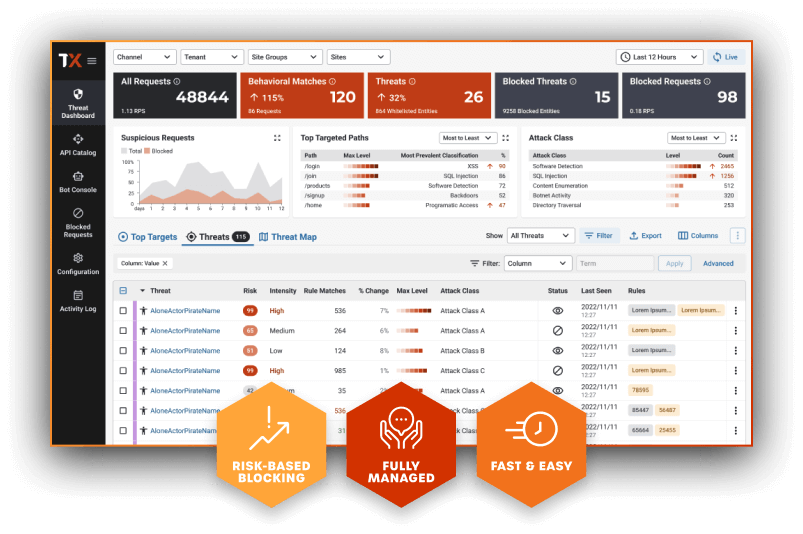 Block botnets and advanced attacks in real time
The ThreatX platform is always monitoring, assessing, and blocking attacks – automatically. It learns what threats to your system look like and stops them based on their risk level, so you can keep sites available and business humming.
Get your nights and weekends back
Stopping zero-day threats requires more than just software. You need real live people – but it doesn't have to be you. Our expert team takes it on for you, so you don't have to manage signatures or worry about false positives.
Ward off attacks with zero hand-holding
Onboard sites in under 15 minutes, not weeks. Block threats in an instant. And use simple dashboards that make it easy to see what's going on.
Protect Your APIs and Applications with Confidence, Not Complexity
ThreatX is managed API and application protection that lets you secure them with confidence, not complexity. It blocks botnets and advanced attacks in real time, letting enterprises keep attackers at bay without lifting a finger. Trusted by leaders like Lenovo, BMC and Epsilon, ThreatX profiles attackers and blocks advanced risks to protect APIs and web apps 24/7.