PUBLISHED ON
November 2, 2022
LAST UPDATED
Nov 02, 2022
The last two years have rocked the B-to-C world, capping a steady movement towards online shopping. The instant fulfillment of online shopping had already created dramatic change in consumer behavior, which was further exacerbated by the COVID-19 pandemic.
Over the last several decades, shoppers transitioned from visiting retail stores to ordering from print catalogs, then online catalogs. Now, those same consumers rely on mobile devices to access online storefronts. According to the United States 2020 Annual Retail Trade Survey, e-commerce sales increased by $244.2 billion or 43 percent in 2020, the first year of the pandemic, rising from $571.2 billion in 2019 to $815.4 billion in 2020. To keep pace with increased demand and provide a seamless shopping experience, retail organizations are shifting business objectives to prioritize initiatives that enable omnichannel access for consumers.
Omnichannel Shopping vs. Multichannel Shopping
Omnichannel e-commerce takes a comprehensive approach to consumer outreach, putting virtual storefronts wherever and whenever potential buyers congregate online. In this new world, each app, digital tool, and shopping venue is a separate channel. An omnichannel customer experience integrates these channels and allows customers to continue their shopping experience from one channel to another.
For example, customers might use smartphone apps to find the product and browse through in-store digital catalogs to compare prices, buy online and pick up in-store, or buy in-store and have their purchases shipped. This approach enables the customer to be center stage throughout their shopping journey. With fortune 500 retailers setting the bar with innovative shopping experiences and new services, buyers now have heightened expectations for a frictionless buying experience every time they shop. Retail organizations have a lot to gain by meeting customers' needs and expectations through omnichannel shopping.
The predecessor to this kind of retail experience—multichannel e-commerce—also provides all sales-making information through apps, digital tools, and shopping venues. However, in this newly obsolete model, every channel works independently. A multichannel strategy assumes that consumers have singular shopping preferences vs. blended touch points. Taking a multichannel approach puts the product center stage.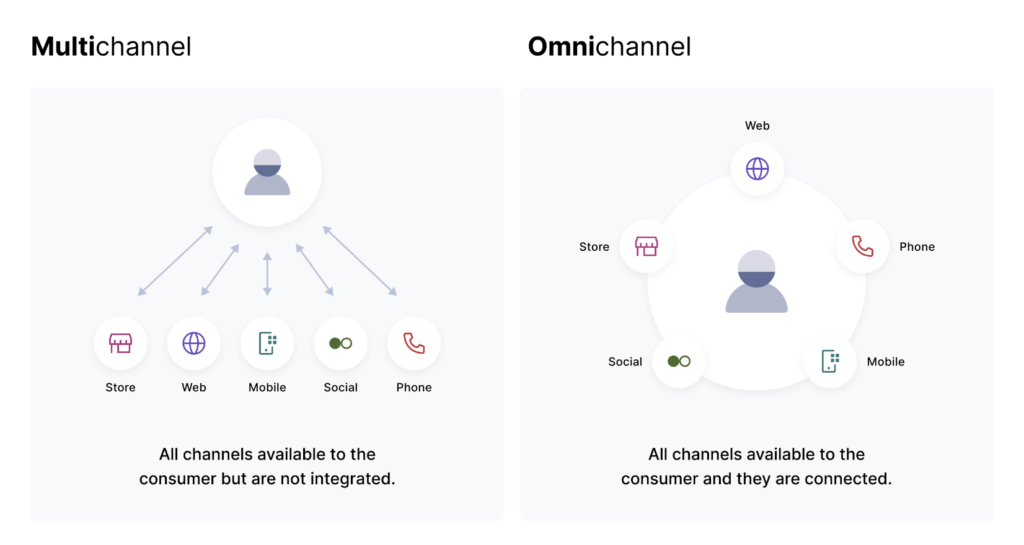 Omnichannel Retail Is Forcing Digital Transformation
Retailers shifting buying experiences from multichannel to omnichannel are prioritizing digital transformation. Beginning with infrastructure changes, headless architecture takes a modular approach to ensure back-end functionality remains consistent no matter the channel. This enables front-end developers to test and launch new channels using existing data from headless e-commerce platforms. Transforming to headless architecture provides retailers more flexibility to experiment with channels and new API-driven micro-services.
Self-service shopping—the desire to complete a transaction without talking to a salesperson—is a huge attraction for many consumers. Forward-leaning retailers have moved to self-service shopping experiences by providing all the information a shopper could need to complete a buying journey. This means enabling application micro-services, with several APIs: services such as AI chat bots, price optimization, inventory tracking, integrated payment systems, store lookup location services, and curbside pickup are all necessary components of this new business model. And all these capabilities are anchored around streamlining a self-service, convenient, and efficient buying experience.
Done correctly, this array of micro-services also acts as fuel to understand shopping habits and ultimately allows retailers the ability to personalize shopping experiences, driving both brand loyalty and consumption. Knowledge gained through an omnichannel strategy allows brands to offer personalized recommendations such as the best available alternatives, competitive prices, loyalty programs, and new products based on shoppers' previous queries and purchases. Providing a personalized shopping experience is so important in the endless void of online content because it targets specific customers rather than all of them at once.
Consider the Risks of Digital Transformation
The upside of omnichannel shopping does not come without risks. We see several program-level problems with the transformation initiatives retail organizations are undertaking:
Architecture changes
Data synchronization
Aligning cybersecurity with business goals
With the push to omnichannel e-commerce, all these technological shifts are happening so quickly that cybersecurity is often left as an afterthought. If cybersecurity isn't prioritized alongside digital transformation efforts, organizations put themselves at risk of a costly data breach. (Breaches aren't cheap – IBM estimates the average cost of a data breach at well over $5million. –IBM Cost of a Data Breach Report 2021).
Adopting new technologies, third-party APIs, and micro-services expands an organization's attack surface and risk exposure. A Ponemon Institute survey in 2020 found that 82 percent of organizations had experienced at least one data breach due to digital transformation. That's why it's so critical to involve cybersecurity experts from the beginning of project planning through development execution to ensure the proper measures are in place and systems continue to stay within compliance measures.
Align Cybersecurity With Organizational Objectives
When security teams take part in digital transformations from the start, they are better able to find innovative ways to secure your evolving attack surface and remain compliant. In addition, integrating third-party APIs and micro-services can make securing infrastructure even more complex. That's why advanced threat detection that understands normal vs. suspicious usage can mean the difference between identifying and stopping an attack or exposing your consumers' sensitive data. It's key to find a solution that can block attacks in real-time, giving your team the time to patch vulnerabilities.
As retail storefronts evolve to meet modern expectations and buying demands, the expanded functional footprint, attack surface, and scale demands highly evolved security.
Learn how ThreatX partners with retail organizations to take a protection-first approach to securing the APIs and applications that drive online storefronts, and manage customer accounts and online payment systems by checking out https://www.threatx.com/use-cases/retail-ecommerce-protection/
Tags
About the Author